A Logo Primer
The most popular Logo environment has involved the Turtle, originally a robotic creature that moved around on the floor.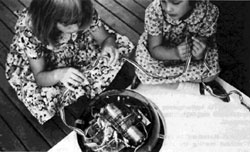 It can be directed by typing commands at the computer. The command forward 100 causes the turtle to move forward in a straight line 100 "turtle steps". Right 45 rotates the turtle 45 degrees clockwise while leaving it in the same place on the floor. Then forward 50 causes it to go forward 50 steps in the new direction.
With just the two commands forward and right, the turtle can be moved in any path across the floor. The turtle also has a pen which may be lowered to the floor so that a trace is left of where it has traveled. With the pen down, the turtle can draw geometric shapes, and pictures, and designs of all sorts.