Logo Foundation Services
Workshops and Courses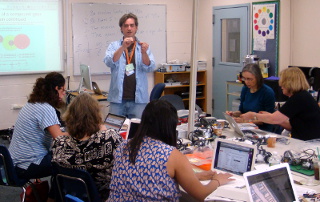 We offer a range of workshops and courses that provide opportunities to learn computer programming and physical computing, develop teaching strategies and design constructionist learning environments, and share your thoughts and projects with colleagues. Some events, like the Logo Summer Institutes, are open to the public. See the Events Page for a full list of what's coming up.
We also offer workshops and courses by arrangement with a school, district, or other organization for its staff members. Go to Workshop and Course Descriptions for information about current offerings. These may be modified and adapted to meet your specific needs, and we can design customized workshops with you.
Go to Making Arrangements for details about logistics and costs.